Shadow of the Tomb Raider
Shadow of the Tomb Raider is the sequel to Rise of the Tomb Raider. It released September 14, 2018 on PlayStation 4, Xbox One, and Microsoft Windows.
Lara has been tracking and eliminating Trinity one cell at a time. However a rash decision leads to Lara inadvertantly triggering the death of the Sun and the end of the world. Lara sets out to right the wrong she has caused and stop the world from ending in an adventure that will complete her journey to becoming who she was meant to become.
This blog is mainly to promote the existence of the Discussions page on this site. It can be easily accessed from the "Discuss" tab on top of the page.

Article comments have turned from easy place to ask questions about the article and how to improve it, into personal opinions about the character an…

Read more >

So Crystal Dynamics has been confirmed to be working on an Avengers game, so it's likely that Tomb Raider will be on the back burner for a while. What do you think the extra development time will bring the series? What might they learn from making Avengers, remember this is the first New IP Crystal…

Read more >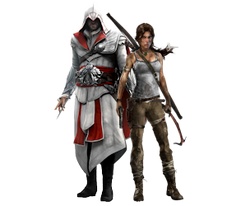 Action-Adventure Games
Go to these sites for info or for help with your own wiki!
ARK: Survival Evolved • Assassin's Creed • Bayonetta • The Binding of Isaac • Castlevania • Crackdown • Darksiders • Days Gone • Detroit: Become Human • Devil May Cry • Dragon's Crown • Fran Bow • God Eater • Grand Theft Auto • Gravity Rush • HITMAN • Horizon Zero Dawn • InFAMOUS • Just Cause • King's Quest • L.A. Noire • Last Day on Earth: Survival • The Last of Us • Legacy of Kain • Legend of Zelda • LEGO Dimensions • LEGO Games • LEGO Marvel and DC • Lightseekers • The Longest Journey • Mafia • Marvel's Spider-Man • Metal Gear • Monkey Island • Monster Hunter • Ninja Gaiden • No More Heroes • Ōkami • Prince of Persia • Red Dead • Senran Kagura • Sleeping Dogs • Splinter Cell • Subnautica • System Shock • Tomb Raider • Uncharted • Watch Dogs • Yakuza
Want your community included? See how!
See all of our Action-Adventure gaming wikis!