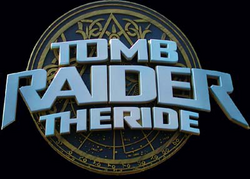 Tomb Raider: The Ride was a ride on Paramount's Kings Island inspired by the 2001 film Lara Croft: Tomb Raider.
History
[
]
Tomb Raider: The Ride was created by Paramount Parks Design Entertainment in association with Paramount Pictures and Eidos Interactive. The ride was announced month after the movie was released in July 2001[1]. The ride was opened to public in April 5, 2002[2].
In 2006 Paramount Parks was purchased by Cedar Fair. In 2007, everything related to Tomb Raider brand was removed and the ride was named "The Crypt". As the Crypt, the ride lasted until October 30, 2011, when it was turned into a haunted house[2].
Sister ride Tomb Raider: FireFall at Kings Dominion was also renamed "The Crypt", while the Canada's Wonderland Tomb Raider: The Ride was renamed "Time Warp"[3].
The Ride
[
]
The queue lead through a corridor with rubble and bamboo support beams, with walls lines with artifacts, while a score from the movies was playing. The pre-show showed clips from the movie to familiarize average visitors with the story. The ride was an indoors giant top spin's 77-seat gondola. The ride would spin over depictions of various locations spraying water and steam onto the guests.
Gallery
[
]
References
[
]