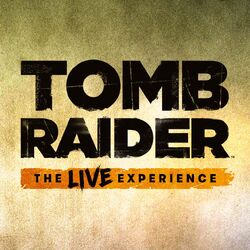 Tomb Raider: The Live Experience is a live attraction constructed by Little Lion Entertainment in collaboration with Crystal Dynamics and Square Enix in London.[1] It opened on May 9th, 2022.[2]
Tomb Raider: The Live Experience features a handful of locations, such as: Croft Mansion, Snowy Finland, Sinking Ship, Cananza Cave, Costa Rican Jungle, and Ancient Tomb.[3]
On April 22nd, 2022, it was announced that Alicia Vikander would return to voice Lara Croft, as well as appear in a video message during the attraction. Earl Baylon was announced to return as the voice of Jonah Maiava, with Allen Maldonado making his first appearance as Zip ahead of the upcoming Tomb Raider anime.[4]
Locations
[
]
Croft Manor
Sinking Ship
Costa Rica

Costa Rican Jungle
Cananza Caves
Tomb of Sibu[5]
Trivia
[
]
This attraction exists within its own timeline, combining elements from timelines that preceded it.
A shipping container during the Sinking Ship section features Lara's compound bow and climbing axe from the Survivor Timeline.[6]
Winston appears at the end of the attraction, and grades the team on their work during the experience.[6]
Players are given a business card for Natla Technologies at the end of the experience, with a working UK telephone number of 0203 983 5531.[6]
Gallery
[
]
References
[
]