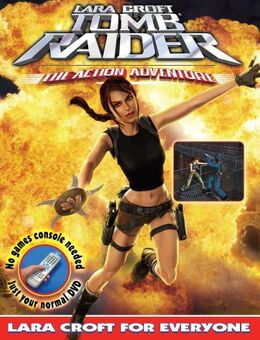 Tomb Raider: The Action Adventure is an interactive DVD. It was released on November 21, 2006 in Europe and December 5, 2006 in the United States. It follows a simplified version of the story from Tomb Raider: The Angel of Darkness.
The game uses recorded footage of the PC version, with new shots inserted. The player can navigate through the game using the "Up, Down, Left, Right & Enter" keys to perform various actions like "Use Key, Jump, Shoot and Play Safe".
Both Lara Croft and Kurtis feature, and Tomb Raider: Angel of Darkness was chosen as a base for the Tomb Raider iDVD because Tomb Raider: Legend was still in development at the time and Angel of Darkness was the last game to have been produced. Depending on the success of this new direction in iDVD entertainment, additional episodes of Tomb Raider could be converted. The iDVD can be played both on PC and Mac (with a DVD player and software like PowerDVD) or a normal home DVD player. It has been created and marketed towards nongamers and people who haven't played video-games before or who are meeting Lara Croft and Tomb Raider for the first time. There is a two-player mode function where people can compete against each other, the Tomb Raider iDVD has a completion time of around two to three hours. It also uses a points-based system which rewards players for additional exploration or wise moves. In lieu of a save game feature, players receive numeric passwords periodically that can be inputted to resume the game more or less where they left off.
Play this on PC or DVD using your DVD remote. If playing this on PC, use Windows Media Player, VLC player is no good for this game, it won't highlight alot of the menu aspects.
Xpadder is included with profiles for Xbox 360, & PS3, all level codes are included also within the ISO.
Community content is available under
CC-BY-SA
unless otherwise noted.