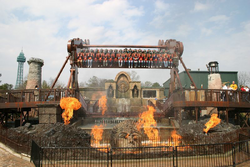 Tomb Raider: FireFall was an amusement ride located at Kings Dominion in Doswell, Virginia, United States inspired by the 2001 film Lara Croft: Tomb Raider[1].
History
[
]
The ride opened in 2005. After Paramount Parks was purchased by Cedar Fair in 2006, Tomb Raider: FireFall at Kings Dominion was also renamed The Crypt like Tomb Raider: The Ride on Kings Island. The ride lasted until January 23, 2020, when it was removed to make room for another ride[2].
The Ride
[
]
The ride was an outdoors Top Spin's gondola.
Gallery
[
]
References
[
]