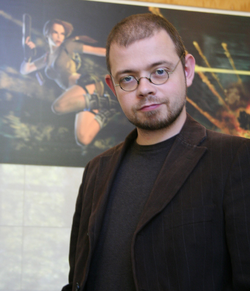 Toby Gard (born June 8, 1972) is a video game consultant and the creator of Lara Croft.
He is best remembered for helping bring to the world one of the most iconic video game characters of all time. During the development of the character, Toby had always wanted Lara to explore Egyptian pyramids and tombs which is why Egypt is one of the franchise's most iconic locations.
Tomb Raider was released in 1996 with Core Design and Eidos Interactive and was a worldwide success, but Toby left Core the year after as he disliked the direction they were going with his character especially as Lara was becoming too much of a sex symbol rather than the independent strong female heroine he had intended her to be and he was no longer being given the creative freedom to further develop her.
After the success of several sequels including Tomb Raider II and Tomb Raider III: Adventures of Lara Croft, Core and Eidos faced a critical failure with Tomb Raider: The Angel of Darkness and the team separated with Eidos teaming up with another company called Crystal Dynamics to further the Tomb Raider franchise.
Toby was asked back by Eidos in 2006, ten years after his character's success to help in the development of their first game with Crystal Dynamics called Tomb Raider: Legend which he did with Lara's visual redesigning, co-writing the storyline, overseeing Lara's character design and creation, designing and implementing parts of the character movement system, and directing the cinematics. The game proved to be a great success of the revival of his character.
In 2007, Tomb Raider: Anniversary was released as a celebration of ten years since the first ever Tomb Raider game. Toby was story consultant and also added audio commentary to a special feature in the game.
In 2008, Tomb Raider: Underworld was released with Toby co-writing the story, directing the cinematics, voice direction, motion capture direction (along with camera setup and managing the animators and lighters), and directing the European TV advert for the game.
Afterwards, Toby left to work at Focal Point Games LLC and is currently working in a studio he founded called "Tangentlemen".
Gallery
[
]
External Link
[
]