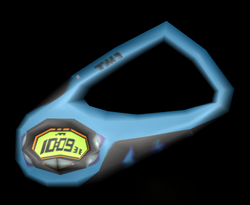 Timex-TMX is a watch Lara uses in Tomb Raider: Chronicles, it replaces the earlier iterations of Compass and Stopwatch from previous games. Timex-TMX was also used by Lara in the intro cinematic of the Von Croy Industries levels.
Ingame, the Timex-TMX can be used to find out Lara's statistics in the current level. Information such as time taken, distance travelled, healthpacks used, ammo used, and secrets found can be viewed.
Trivia
[
]
The appearance of Timex-TMX was due a marketing deal between Eidos and Timex.[1]
Gallery
[
]
References
[
]