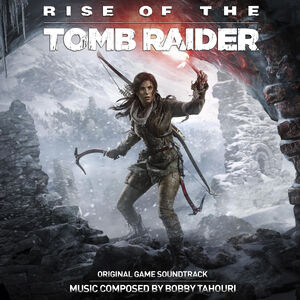 The score for Rise of the Tomb Raider was composed by Bobby Tahouri, who took over the mantle from Jason Graves.
Rise of the Tomb Raider Original Soundtrack can be listened to Here.
Track listing
Edit
01) London
02) The Prophet's Tomb
03) Hidden Truth
04) Siberia It Is Then
05) The Expedition
06) Blood In The Snow
07) Whispers In The Dark
08) Soviet Facility
09) Revelations
10) The Prisoner
11) Trinity's Plan
12) Something Else Happened
13) The Atlas
14) Meet The Remnants
15) Echoes Of The Past
16) The Observatory
17) Do What You Must
18) The Cistern
19) Locating The Source
20) The Deathless Prophet
21) The Reckoning
22) Execution
23) Rise Of The Tomb Raider
Music Composed By Bobby Tahouri
"Lara's Theme" By Jason Graves
Orchestra: Nashville Music Scoring Orchestra
Music Contractor/ Concertmaster: Alan Umstead
Conductor: David Shipps
Orchestrators: Tony Blondal, David Shipps
Lead Engineer: Nick Spezia
Assistant Engineer: Jasper LeMaster
Recorded At Ocean Way Studios – Nashville
Soundtrack Mixed At Trevor Morris Studios
Soundtrack Mixed By Phil McGowan
Mastered By Gavin Lurssen and Reuben Cohen At Lurssen Mastering
Technical Score Engineer: Tangelene Bolton
Drums and Percussion: MB Gordy, Satnam Ramgotra, Bobby Tahouri
Bowed Metals: Chas Smith
Solo Strings: Ana Lenchantin, Lowell Pickett
Plucked Strings: Aaron Kaplan
Digital Instrument Design: Sonicsmiths
I Shall Rise
Edit
In addition to to the orchestral score, Karen O from the Yeah, Yeah, Yeahs was commissioned to write an original song for the game. The song was titled I Shall Rise. It was used for marketing as well as being played in the game's credits.