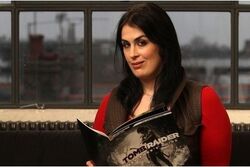 Rhianna Pratchett is an English writer. She served as the primary writer for Tomb Raider and Rise of the Tomb Raider and co author of 6 issues of the Dark Horse Comics Tomb Raider series, and Lead Author of a further six.
She departed from the Tomb Raider series in January 2017 to pursue new projects. [1]
She is the daughter of the English author Terry Pratchett.
Other works
Edit
Besides Tomb Raider, Pratchett is best known for writing, Overlord, Heavenly Sword and Mirror's Edge.
References
Edit