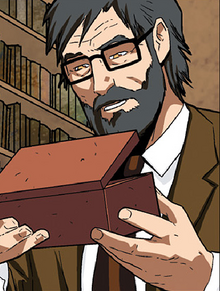 Professor H. Cahalane was a Professor of Trinity College which was located in Dublin, he was one of Richard Croft's closest friends.
Lara consulted him with two artifacts, to determine their origin, He asks her to leave them with him for further examination.
He is later murdered by the Daughter of Matsu, to retrieve the relics to fulfill the Solarii Worshipers' plan.
Cahalane appears in the Tomb Raider: The Ten Thousand Immortals, though it makes no sense, since Ten Thousand immortals takes place a year after Yamatai, according to Lara, but he dies only a few weeks after Yamatai in the comics.[1]
References
Edit
↑

Tomb Raider The Ten Thousand Immortals [Page 138, Line 21-22] "I was at Yamatai last year," She found herself saying. She didn't know why.