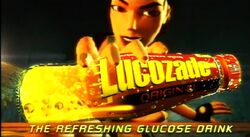 Lucozade, is popular series of Energy and Sports drinks. In 1998 Lara Croft began a huge sponsorship with this particular product.
The original Lucozade, now called Lucozade Energy, is an energy drink containing glucose syrup and is produced by GlaxoSmithKline plc in Gloucestershire. It was first manufactured in 1927 by a Newcastle chemist, who experimented for several years to provide a source of energy for those who are sick. It became available throughout the UK for use in hospitals under the name Glucozade. This was changed to the recognizable Lucozade in 1929. It is the one that we all know and see in shops today.
During the endorsement by Tomb Raider, the drink was temporarily renamed "Larazade"
Commercials
[
]
The company featured a lot of TV commercials starring Lara in her adventures.
If she was stuck in a dangerous situation such as being attacked by dogs, her Lucozade would provide a solution.
Lucozade was the biggest sponsorship Lara had in her career. The first original commercial had Lara drinking the original flavor but further ads revealed more flavors such as Berry and Apple.
While most ads featured the computerized version of Lara as seen in the games, others had actors impersonating Lara with slogans such as "Gone a bit Lara."
Lucozade to Larazade
[
]
In 2001 when Lara's first major blockbuster Lara Croft: Tomb Raider starring Angelina Jolie was released, Lucozade changed their original name from Lucozade to Larazade.
This made many sponsored events and merchandise such as T shirts, backpacks and promotional bottles.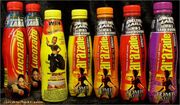 The Larazade promotion ran from May to July and featured the heroine throughout on-pack promotion, print, cinema and television advertising media. Larazade also featured an on-pack promotion giving consumers a chance to compete in a Tomb Raider challenge. Teams would compete in a two-day long Tomb Raider challenge at a real life version of Lara's home, Croft Manor. The winners would then receive one of the five special edition Land Rovers used in the original film.
Larazade was the first change to the original Lucozade brand name for over seventy years. Jeremy Heath-Smith, Managing Director of Core Design (Lara's creators) says: "We are delighted to continue such an effective relationship with Lucozade and are thrilled that the brand is further strengthening it's support for Lara with this great tribute." Helen Gorman, marketing manager for Lucozade, reiterates GlaxoSmithKline's high esteem for Lara by saying: "Millions of gamers all over the world have spent more time with Lara Croft than they have with their best friends or partners. "She is a heroine to millions of men and women and her dynamic and energetic nature fits well with the power of Lucozade Energy. We're delighted that we can honour her by changing the name of Lucozade to Larazade and by creating Croft Manor in real life as a fantastic prize for our brand's consumers."
Larazade eventually changed their name back to Lucozade. But Lara had spanned the market rapidly and pushed her celebrity status to the next level.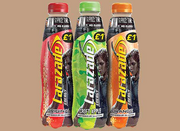 However in 2018, Lucozade sponsored the release of the latest film and once again released limited edition Larazade to promote the release of the latest video game of the series Shadow of the Tomb Raider.
Trivia
[
]
Lara was not the first popular figure to advertise Lucozade. Prior to Lara being used to advertise the brand, English Heavy Metal band, Iron Maiden was used in advertising during the 1980s, through their song "Phantom of the Opera." The ad also featured English athlete Daley Thompson.
Promotional art for Lucozade
[
]