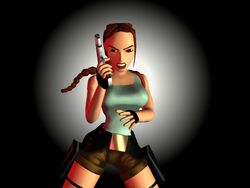 Lara's Outfits are the items of clothing worn by Lara Croft during the events of the games.
Lara's signature ensemble consists of a tank top, shorts, socks and combat boots, which she wore in every game until the 2013 Reboot. In most of her outfits, Lara would always complete the ensemble with a Backpack, fingerless leather gloves and a type of leather holstered belt with a large or small buckle and garters.
Original Timeline
[
]
Recurring Outfits
[
]
Legend Timeline
[
]
Survivor Timeline
[
]
Rise of the Tomb Raider is the first game in the main series that clothing will function more than just cosmetically, and will offer perks.
Standalone Games
[
]
Unused Outfits
[
]
Trivia
[
]
As well as having worn her outfits in various Sponsorships, Lara also wore a rare collection that was only seen in Promotional Renders ranging from trouser suits, dresses and even a Karate outfit. Other versions of her Wetsuit and Nevada Camouflage outfits were also used.