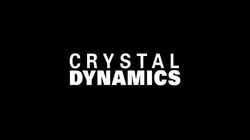 Crystal Dynamics is an American video game developer that was founded in 1992 by ex-Sega developers; Judy Lang, Madaline Canepa and Dave Morris. Based in the San Francisco Bay Area, it was acquired by Eidos Interactive, a British video game publisher, in 1998. After Square Enix's acquisition of Eidos in 2009, it became a subsidiary of Square Enix. Crystal was the first licensed developer for 3DO, a gaming hardware platform funded by Kleiner Perkins.
In 2003, Crystal Dynamics were handed the development responsibilities of Tomb Raider by Eidos Interactive, releasing Tomb Raider: Legend in 2006, permanently replacing original developers and creators Core Design. They have been in charge of multiple reboots, and all spin off games, and also approve the character for appearances in other media such as movies, TV or crossovers. Crystal Dynamics were only a supporting developer for Shadow of the Tomb Raider, mostly being undertaken by Eidos Montréal, who developed Tomb Raider (2013)'s multiplayer mode. This was due to their responsibility working on Marvel's Avengers.
In August 2018, Crystal Dynamics opened a second Studio in Washington, named Crystal Northwest in order to aid them in the development of all future projects. After the completion of Marvel's Avengers in September of 2020, it was announced they had began hiring staff for their next game, it was unknown whether this is was Tomb Raider related.[1] In 2021, Crystal Dynamics announced that they would be unifying all three timelines, including the earlier work of Core Design, and whilst fans shouldn't expect an announcement soon, they suggested that they were already in development of the next game.[2] A third studio, Crystal Southwest, was announced and would be lead by Tomb Raider executive producer Dallas Dickinson.[3] During a livestream for Tomb Raider: The Last Revelation, he revealed that Crystal had ambitions that were "pretty damn big" but did not elaborate any further. There were also more suggestions that they were making the next game.[4]
Games Developed
[
]
Console games
[
]
Mobile games
[
]
References in the Tomb Raider series

[

]
Crystal Dynamics have included references to the studio and their past games throughout the Tomb Raider series.
During the King Arthur's Tomb level, near a corridor of water, using Lara's binoculars will reveal to the player that "Crystal Dynamics Rocks" is written in ancient text.
Legacy of Kain

[

]
The same portrait of Kain seen in Legacy of Kain: Defiance is present in Croft Manor, between to the staircase and door to the gym.
Following the completion of the game or by using cheats, the player can use the Soul Reaver instead of Lara's dual pistols. It is a reskin of the Excalibur weapon.
Various symbols in reference to the Legacy of Kain franchise are present throughout the game, including those in reference to Raziel, Kain and the Soul Reaver. Lara's 'Goth', 'Goth Lace', 'Sports', 'Sports Green', and 'Snowsuit' outfits contain emblems from the series. Sound glyphs are also featured on the soles of Lara's shoes in certain outfits, but this is not viewable in normal gameplay.
Legacy of Kain

[

]
Kain's portrait in Croft Manor is retained.
Due to legal issues, Lara's wetsuit taken from Tomb Raider II could not bare the Sola logo, so it has been replaced with Raizel's clan symbol.
Kyle Mannerberg, a designer at Crystal Dynamics who had been with the studio since 2002, passed away a year prior to the release of Underworld. The end credits begin with a tribute stating "For Kyle". Kyle's portrait is also seen in Lara's Yatch.
Legacy of Kain

[

]
Kain's portrait once again is retained in Croft Manor, this time it can be seen burning during the opening level.
Legacy of Kain

[

]
Raizel and Kain are part of a downloadable character pack for the game, featuring their own story chapter with recycled audio clips from the franchise. Their characters replace Lara and Totec.
Legacy of Kain

[

]
The Soul Reaver can once again be seen during the opening level in Syria. However, it is only a decoration, and not obtainable like in previous games.
Legacy of Kain
[
]
Whilst not developed directly by Crystal Dynamics, symbols from the series appear in Lara's journal during the opening cutscene.
Gallery
[
]
References
[
]